"This new cable design with an aluminium core represents a wonderful innovation", said TenneT Chief Operating Officer Ben Voorhorst. "It is just as reliable as the copper core cables we have used so far, but results in a significant cost reduction of 20 to 30 percent. The cable is also lighter and therefore easier to handle and install. Close collaboration between the TenneT team and cable manufacturer Prysmian has resulted in an innovative solution that will immediately yield benefits for TenneT and society as a whole."

The newly developed 3500 mm2 400 kV AlMil cable was manufactured by the Delft office of Prysmian Group and successfully passed the type test last week. This means that the new cable type can now be applied in practice. The cable will be used immediately in a 9 km-long section of the new Randstad 380 kV North Ring between Vijfhuizen and Bleiswijk. This section still needs to be laid underground.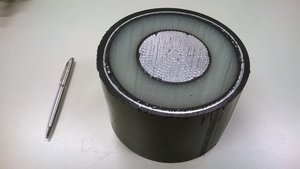 De nieuwe kabel met een kern van aluminium in plaats van koper is uitgebreid getest bij Prysmian in Milaan
Cost reduction and environmental benefits
The conductive core of the new cable is made of aluminium, which is much cheaper than copper. The aluminium core and the plastic layer are covered by a so-called 'earth sheath' consisting of an aluminium shell ring. The aluminium shell ring is less burdensome on the environment than the traditionally used lead sheath.