Successful offshore year for TenneT: With the DolWin1 project, the transmission system operator has brought the fifth grid connection system into operation this year. This means that the offshore grid connections in the North Sea now achieve a transmission capacity of around 4,300 MW. TenneT has thus now fulfilled two thirds of the federal government's expansion targets of 6,500 MW by 2020.

"We are proud to have completed another of our technologically demanding offshore pro-jects and to have taken another step closer to the federal government's expansion target," said Wilfried Breuer, member of the TenneT management team.

DolWin1 is already the eighth offshore grid connection brought into operation by TenneT. Four additional grid connection systems for transmitting wind energy from sea to land are under construction.

DolWin1 is a high voltage direct current (HVDC) transmission facility with a capacity of 800 MW. The power line runs 75 km as a subsea cable from the DolWin alpha converter station to the landfall point in Hilgenriedersiel and from there 90 km as an underground cable to the converter station in Dörpen-West (Heede), in Lower Saxony.

The wind power produced offshore is transmitted as three-phase electric power to the TenneT DolWin alpha converter platform, converted to direct current and transmitted to the Dörpen-West converter station via a direct current cable. There, the DC power is con-verted back to three-phase electric power and fed into the extra high-voltage grid.

The substructure of the DolWin alpha offshore platform, known as the jacket, was installed in the south-western North Sea in 2012. In 2013, the part protruding above water, known as the topside, was installed. The platform, the size of which corresponds approximately to a football field on five floors, was placed onto the substructure using the world's largest floating crane. This was followed by works to complete the electric facilities and auxiliary systems, both on the offshore platform and in the onshore converter station in Dörpen-West.

Heerema Fabrication Group built DolWin alpha in their yard in Zwijndrecht (Netherlands) on behalf of ABB, TenneT's general contractor for this project. ABB is responsible for platform construction and installation of all electric facilities, where ABB utilises HVDC light converters as fundamental technology.
Facts and figures
DolWin1:
165 km line with a transmission capacity of up to 800 MW for high voltage direct current (HVDC) transmission
90 km land cable, 75 km subsea cable
Grid connection point: Transformer substation Dörpen-West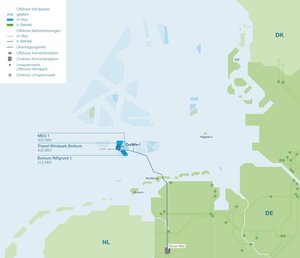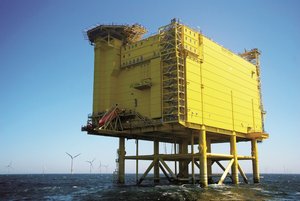 Media information: High resolution photographs and graphics can be requested from the TenneT press office.